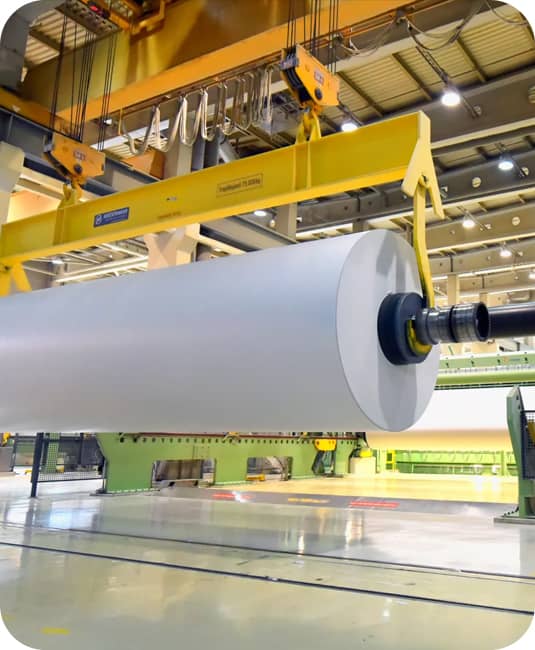 Vishal Papertech : A place where creativity meets professionalism.
We believe that there is a better way to do business – A more valuable, less invasive way where customers are earned rather than bought.
Locations
that Serve our customers' varying paper needs with tailor-made solutions for the paper.
Annual Events
& an exceptional experience every time.
Members
team of skilled employees who work in close coordination with the clients to meet their requirements and expectations.
Manufacturing Units
Believing in ``Put waste in the right place`` we recycle, reuse, reduce and produce duplex paper. Our Best Seller
Duplex Paper is the company's most premium product which is made of high graded recycled pulp and best quality surface treatment. The top layer of our duplex paper board is made of virgin paper waste while the bottom layer is made of grey paper waste. It is available in several sheet sizes and thicknesses varying from 200 GSM to 410 GSM. We also supply customized requirements in terms of reels and sheets.
Our products have high bursting strength that is ideal for folding and dia-cutting. These coated duplex boards are perfect for making high-quality covers for different products as their surface is shiny and dustproof. These are coated with high-grade material which gives them strength and sturdiness. Duplex Boards Applications

Duplex Papers are widely used to create cereal boxes, soapboxes, toothpaste boxes, shoe boxes, cloth boxes, and many other packaging uses. The white duplex board is broadly used to prepare fast food boxes and take-out food boxes. We offer different types of duplex boards as per client specifications. Our products have a high demand in all leading FMCG, Pharmaceutical, and Textile Industry, etc.
We have always given top priority to providing customer-oriented, high-quality products, and services. The success we achieved through our subsequent moves has always helped us make a lead and uphold an enviable position in the corporate world.
Testimonials and reviews from our customers
What our customers are saying about us
We work hard for you and your team
Whether you're an established enterprise or a growing dealer Eco-friendly production techniques
Energy efficient manufacturing processes enable diminished reliance on fossil fuels. Henceforth, creates 43% less waste water.
Conserves natural resources

Increases economic security
Water treatment Plant
Water treatment unit re-utilizes waste water and reduces the waste water percentage to negligible.
Cost saving in the long run.

Stay in compliance with regulations for waste water.
Power Plant
Believing in self reliance & being considerate to our expanding requirement of manufacturing units, we indulge in our own production of electricity.